MuseumPests 2014: Integrated Pest Management for Museums, Libraries, Archives and Historic Sites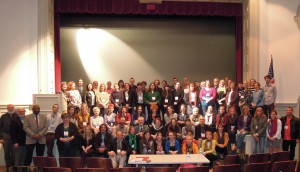 The Integrated Pest Management Working Group and the Colonial Williamsburg Foundation partnered together to hold a two-day conference and workshop program to celebrate the IPM-WG's 10th anniversary of creating online resources for the museum, library/archive, and historic site community. Read a review of the program in e-Conservation Journal. The program took place March 27-28, 2014. The conference afforded 80 participants the opportunity to learn from and with colleagues from across the United States (19 states) and around the world (five countries), including many of the leading researchers and practitioners in the field. Papers and posters were presented in the following four areas:
Click on the links above to access the abstracts and, when available, full texts or downloads of the presentation content. Two keynote addresses were presented by the leading researchers in the field David Pinniger and Tom Strang. Learn more about their talks. The afternoon sessions included workshops and tours. The content of these programs. Access the workshop pages to learn more about the programming presented. Grateful thanks go to the Preventive Care and Conference staff of the Colonial Williamsburg Foundation for supporting, planning and executing this program.